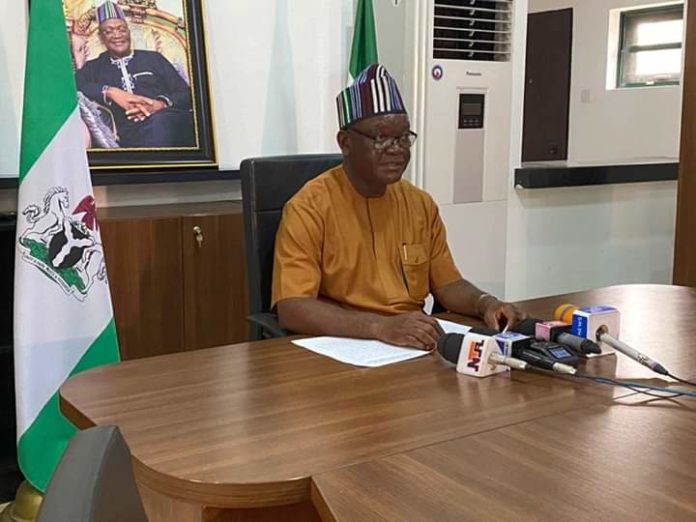 Extends Curfew, Markets Closure By Two Weeks
Owing to the current economic realities and the impending recession caused by Coronavirus pandemic, the Benue State Government has cut down the 2020 Budget from N189 billion to N119 billion.
Govenor Samuel Ortom disclosed this today at the Benue Peoples House Makurdi while briefing journalists shortly after a meeting of the State Executive Council which also had in attendance members of the State Action Committee on COVID-19.
He explained that the downward review of the budget which is to be forwarded to the Benue State House of Assembly became necessary following International Monetary Fund, IMF's projection of a recession in Nigeria that would force a contraction of the country's economy by 3.4% and states of the federation would be adversely affected.
Governor Ortom said as part of measures to mitigate the negative effect of the looming recession, Benue has resolved to take advantage of its rich agricultural potentials by going into increased food production not only for consumption but also for commercial purposes.
Towards this end, the Governor announced the constitution of a committee known as Agricultural Value Chain, Review and Development Cooperation Committee, with him as Chairman and his Deputy, Engineer Benson Abounu as Vice Chairman, while members of the State Executive Council are members, same as selected experts who would be part of the committee.
He identified massive land clearing and cultivation of arable lands in all parts of the state as some of the measures against the anticipated recession, calling on every Benue person to return to farming to make food security a priority and take on the agriculture value chain.
On the fight against Coronavirus, Governor Ortom said the State Government has extended the dusk to dawn curfew and the closure of markets, as well as other preventive measures against COVID-19 by two weeks.
He stressed that though no new case of the virus has been found in the state even after the doctor who handled the index case, his staff and the 23 other persons went into self isolation, it is important that Benue people remain vigilant and strictly adhere to preventive measures such as frequent hand washing, the use of alcohol-based sanitizers and social distancing.
The Governor who expressed the preparedness of the state against the spread of COVID-19, commended members of the State Action Committee for a job so far well done. He also informed the media that samples of the young man in Gungul, Konsisha Local Government Area who fell sick had been taken to Abuja for COVID-19 test.