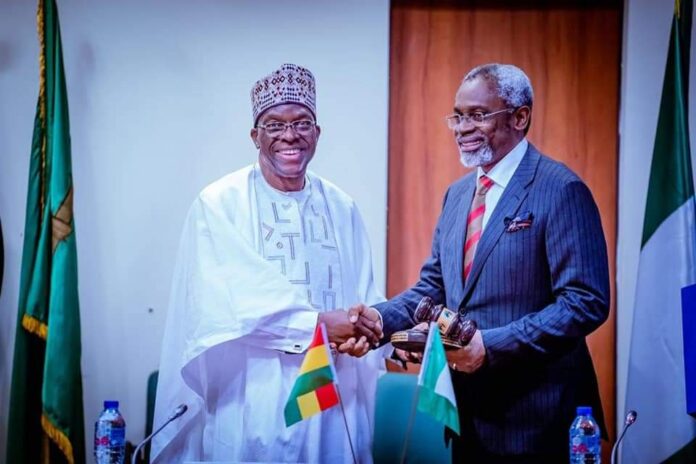 hands over the headship of CoSAP to the Speaker of the Parliament of Ghana
The Speaker of the Nigerian House of Representatives, Rep. Femi Gbajabiamila has expressed confidence on the capability of the Conference of Speakers and Heads of African Parliaments (CoSAP) becoming a powerful global bloc.
Gbajabiamila said the body, has in a short period of its emergence has already made its positive mark on the governance on the continent.
The Nigerian Speaker made the remark in Abuja on Thursday during the handed over the headship of CoSAP to the Speaker of the Parliament of Ghana, Hon. Alban Bagbin.
The 1st CoSAP was successfully held in Abuja from May 9 to May 10, 2022 with the theme, "Enhancing Africa's Post-COVID-19 Economic Recovery Through Parliamentary Leadership."
In a brief remark to transfer the leadership of CoSAP to Bagbin, the Nigerian speaker said the body was formed to collectively address the challenges confronting the continent through legislative interventions, especially in the post-COVID-19 era.
Gbajabiamila said he was leaving office happy that CoSAP raised the issue of the heavy debt burden on African nations and the urgency to push for debt cancellation, amid other challenges, including insecurity.
Bagbin, who gladly accepted to step into Gbajabiamila's shoes, assured him that CoSAP would grow even stronger under his leadership.
"I have accepted the honour bestowed on me as Speaker of CoSAP in the firm belief of your continued support and commitment to our collective objectives and agenda. In that anticipation, and on behalf of the membership of CoSAP, I wish to thank you for being the beacon that harnessed the competencies of Speakers and Heads of Parliament across the continent to give expression to the collective will and aspirations of our people. Nigeria and CoSAP will always remember."
The Ghanaian speaker promised to use the instrument of CoSAP to sustain the fight against terrorism, oppose undemocratic takeovers of government, and promote African lifestyle, culture, as well as self-sufficiency in food production.
Present at the event were principal officers and members of the Nigerian House of Representatives, the Ambassador of Switzerland to Nigeria, H.E. Nicolas Lang, LMI Implementation Partners, and other dignitaries.