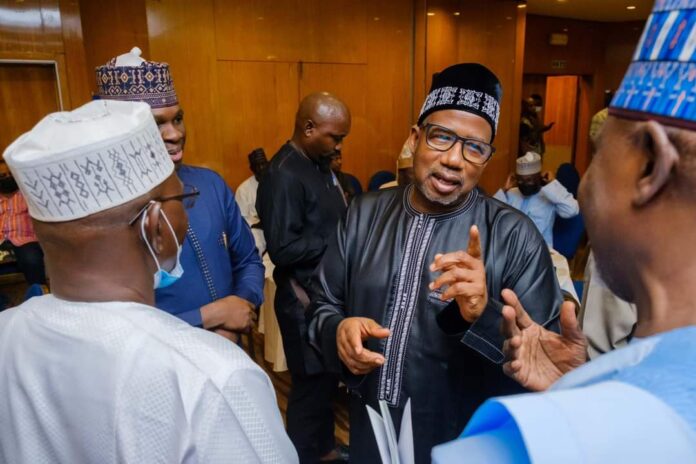 Bauchi State Governor, His Excellency, Senator Bala Mohammed has said that his presidency will establish a knowledge driven government that will do much to Nigerians without borrowing recklessly.
Bala Mohammed was speaking last night during an interactive session with the Former Ministers Forum in Abuja adding that his presidency will leverage resources, manage scarcity with sagacity, procurement process and will do justice and equity in addition to opening up and becoming accessible.
He added that the APC administration has destroyed everything and are afraid of accountability and instead of uniting the citizens, they promote name-calling in the name of investigation that is selfish and secured toward pursuing political enemies.
Governor Bala said he will fight division and rancor adding that his aspiration is not enigma to any section for insensitive to the aspiration of other section of the country adding that as a democrat, he is ready to support whoever emerges.
Describing the Forum as a pleasant amalgam of human capital, Bala Mohammed praised the leadership of the forum for being together and keeping the flag flying.
He added that he is there to seek for the leadership in the country not because he is the best, but focused in making Nigeria great again by working with the calibre of people with knowledge, modesty and understanding.
Nepotism has under the leadership of the APC according to Bala Mohammed, taken over everything hence the need to stop the blaming game.
The consensus according to Bala Mohammed was to get the best out of the aspirants adding that all resource persons are needed to salvage Nigeria adding that the former ministers will get their names recognized in the Party Constitution as opinion molders and political influencers.
While soliciting for the support of the members of the forum, Governor Bala said his candidature will ensure unity and progress of Nigeria adding that he is not leaving his party to any other.
Earlier speaking, Chairman of the Former Ministers' Forum, Tanimu Turaki (SAN) said the PDP's immediate past ministers have served Nigeria and will ensure the legacy of the People's Democratic Party is not buried alive.
He described Governor Bala as successful and erudite leader who has a cumulative history and instrumental memory saying that the Forum is proud of his outstanding performances.
The meeting had in attendance former ministers, stakeholders, Governor Bala's friends and political associates.