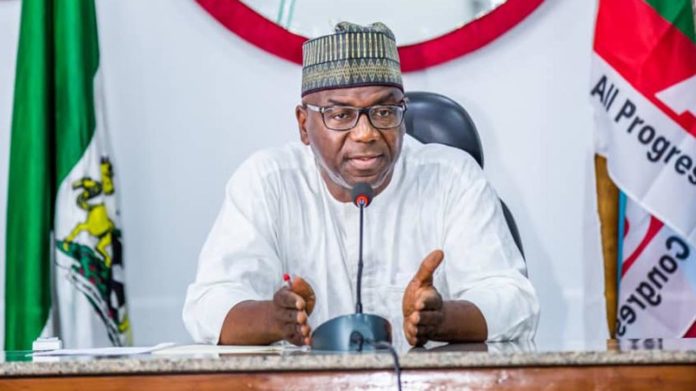 Kwara State Governor AbdulRahman AbdulRazaq on Tuesday congratulated Kwarans on the successful completion of year 2019 which he said heralded a new dawn for the people of the state with the outcome of the general election.
"We spent substantial part of the outgoing year trying to stabilise a state that was left in ruins because of years of neglect — whether in the area of water supply, basic healthcare, primary education, workers' welfare, and other basic amenities," Rafiu Ajakaye, chief press Secretary to the Governor, said in a statement.
"We changed the water situation to an appreciable extent, restored some sanity to the primary health sector with hundreds of millions of counterpart funds, and returned Kwara back to reckoning at the Universal Basic Education Commission. We are resuscitating dying state institutions, restoring dignity and running cost back to the civil service, returning life back to the sports sector, and gradually stopping the bleeding of public resources, among others."
AbdulRazaq said the new year would be decisive for Kwara in terms of socioeconomic and human capital development, adding that the administration would also insist on using public funds to advance public interest only and encouraging a new political culture of probity and modesty in the spirit of the Otoge revolution.
"Nonetheless, Kwarans must know that we are still up against a pocket of groups that are reeling against either their lack of access to the public till or those who regard public office as an avenue to feather their own nests. These forces will throw in everything in the new year, including blackmail and fake news, to misinform the public and distract the government. Kwarans should rest assured that we are up to the task and shall never give in to them amid renewed determination to free up resources for development," he said.
"In 2020, we are laying a solid foundation for a greater Kwara, one that works for all. The first quarter will record official launch of the Social Investment Programme to empower the people across various social strata. We will build innovation hub for our tech-savvy youths to unearth latent potentials and contribute to building solutions to local and global challenges, construct garment factories to rejig our economy and generate employment, key into various agricultural initiatives, invest in mechanised farming, rehabilitate and equip our primary schools and basic health centres, open up our state with roads, train and retrain workers to keep them on top of their game, and launch our e-Government initiative for ease of doing business, among others."
Calling for more support from the citizens, the statement also said the Governor would work with the progressive leadership of the House of Assembly to fast-track the passage of the Freedom of Information Bill to deepen transparency and accountability.
He however called on citizens to guide against fake news which the Governor warned poses grave danger for public peace and order.