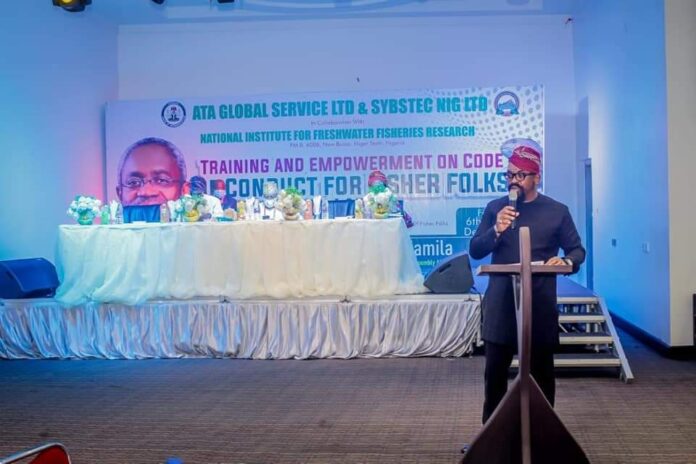 The Speaker of Nigeria's House of Representatives, Rep. Femi Gbajabiamila, has organized an empowerment programme for selected fisherfolks across Lagos State.
The programme, which commenced on Tuesday in Lagos, was tagged 'Training on Code of Conduct for Responsible Fisheries for Fisherfolks in Lagos.' It is being conducted by the National Institute for Freshwater Fishery Research (NIFFR).
Gbajabiamila, who was represented by Hon. Fuad Laguda, urged the participants to be good ambassadors and see the training as an empowerment and a source of livelihood, which should not be taken for granted.
Calling on the participants to make good use of the opportunity, Gbajabiamila said: "Lagos being the centre of excellence, must continue to set the pace so other states can emulate.
"All I would appeal to the participants is to be good ambassadors and justify what has been given to you. See this as the first phase and is what you do that would give this programme a continuation."
Speaking at the event, the Lagos State Governor represented by his Chief of Staff, Mr. Tayo Ayinde, thanked the Speaker for bringing the empowerment training to Lagos.
He also urged the participants to make good use of the opportunity given to them, saying it was "a life-changing programme" and that they should not just "go back home and do nothing."
On his part, the Oba of Igbobi-Sabe, Lagos, His Royal Majesty Oba Owolabi Adeniyi, also thanked the speaker for his kind gesture towards the people of the state, saying the speaker made sure that both the young and the old were selected for the empowerment.
"I want to plead with you all to utilize the opportunity that you have been given. A journey of a thousand miles begins with a step. This is the step towards the right direction," he said.
Participants at the training included the heads of agriculture (HOD) in all the Local Government Areas in Lagos, 20 senior fishery officers from the Lagos State Ministry of Agric, among others.