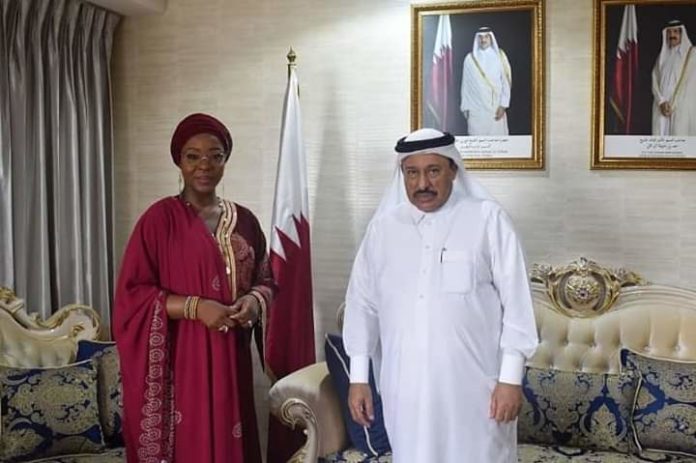 The First Lady of Kwara State, Dr Mrs Olufolake Abdulrazaq met Qatari Ambassador in Nigeria three weeks ago in Abuja, Federal Capital
The Qatari Embassy in Nigeria has made known its intention to extend its charity works in Nigeria to Kwara State during a meeting with Her Excellency recently in Abuja. The Charity work Mr Al-Muhannadi revealed will cut across various sectors of the state's economy including; health, education, skills acquisition and empowerment and youth Scholarships.
It was further disclosed at the meeting that the work will be futher clarified over subsequent meetings with the First Lady in order to work with her and the Ajike People Support Centre. Head of Qatar Charity in Nigeria, Mr Hamdi Mohammed was also present at the meeting.
Dr Abdulrazaq used the event of the meeting to discuss all that her office and the Ajike people's support center has been doing in sectors discussed.
At this time of the COVID-19 Pandemic, Charity organisations, Philantroposts and other such organisations as well as well meaning individuals are urged to do their bit to rid the pandemic from Nigeria and in particular, prevent it from Kwara state.
The Ajike People Support Centre will therefore be very receptive to those willing to help it in its continued drive to help the People of Kwara State.
The Ajike People Support Centre will be very receptive to those helping it in its drive to help the people of Kwara State. While there is no case recorded in Kwara, it is important to mitigate the effects of the stay at home order on citizens and help to ease their burdens.
While at home, people are enjoined to move around and walk in order to avoid stiffness, swollen legs and in very rare cases dvt. Practice tolerance towards one another. Do not spread fear or panic. Keep your tempers in check and be accommodating towards one another during this trying time.
All are therefore enjoined to do their bit.