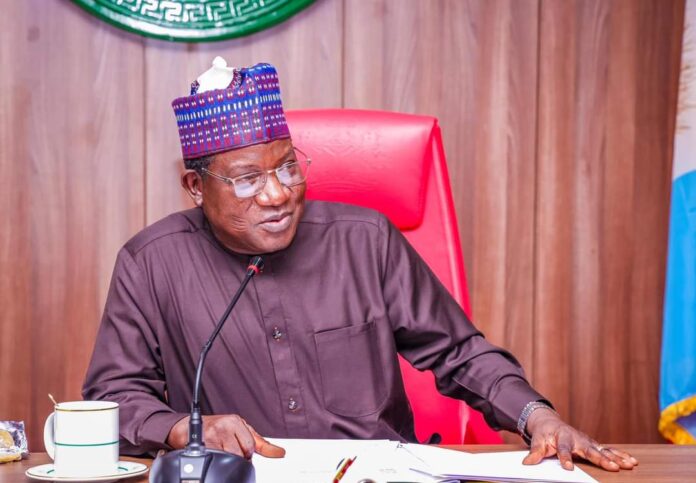 Plateau State Governor Simon Bako Lalong has presided over the last Executive Council Meeting of his administration at the Exco Chambers, new Government House Little Rayfield Jos where he formally dissolved the council.
In his valedictory remarks, the Governor thanked the Commissioners for working with him and giving him all the necessary support to succeed.
He said "My dear members of EXCO, the journey through the past 8 years have been challenging and interesting in different aspects. We came into office at very difficult times when the whole system was at a standstill. However, we did not allow the situation to overwhelm us as we hit the ground running. Today, we can only look back and see what we have achieved and where we could have done better. While we have no intention to claim to have solved every challenge in the last 8 years, we can be humble enough to say that we are leaving Plateau State better than we met it".
Lalong said the council was not oblivious of the challenging economic environment the administration encountered that significantly suppressed its ability to do as much as it wanted. Nevertheless, he said it made the best use of the available resources and goodwill to touch the lives of the people in several ways.
"Apart from initiating and pursuing various reforms to strengthen the governance systems in the State, we continued with inherited projects from previous administrations as well as initiated new ones. That is why we have been on a roller coaster of projects commissioning over the last few weeks. Despite the verocious attempts to discredit us and portray us as having done nothing in the past 8 years, the facts speak differently. The citizens know and have testified to the roads we constructed, hospitals we built, schools we built and equipped, water we provided and most importantly the substantial peace we restored to our State" he said.
He paid special tribute to the civil servants without whom nothing could have been done since they are the live blood of governance.
He said "as the Chairman of this EXCO, I wish to put on record that all decisions taken in this chamber were without any selfish or personal motivations. We did our best to serve with integrity and passion. As human beings, we are not infallible and cannot rule out unintended mistakes in the implementation of some policies. For such situations, we apologise to the people".
Lalong thanked the people of the State for once again giving him the opportunity to serve them and promised to continue to keep his doors open for collaboration.
The Governor said with the Exco formally dissolved, the Commissioners will cease to be active by 29th May 2023.