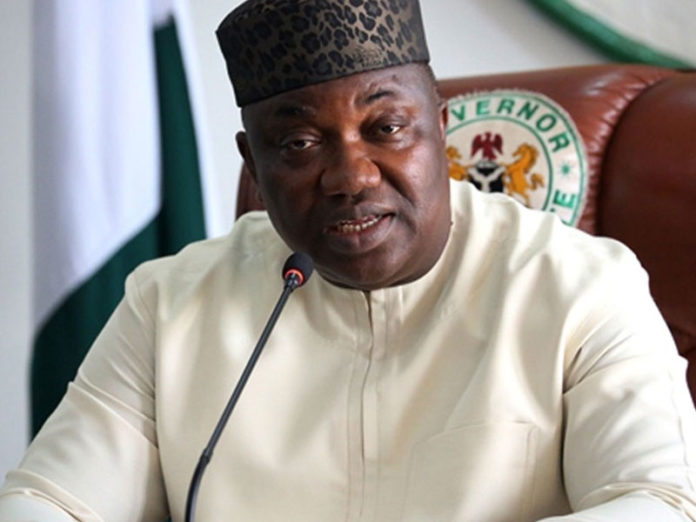 Following the unfortunate death of the former Commissioner for Health, Enugu State, Prof. Anthony Ugochukwu, last week, Governor Ifeanyi Ugwuanyi, on Thursday, swore in Associate Prof. Emmanuel Ikechukwu Obi, as the new health commissioner.
Prof. Obi, until his appointment was a Consultant Public Health Physician and Lecturer at University of Nigeria Teaching Hospital, Ituku-Ozalla and College of Medicine, University of Nigeria, respectively.
Swearing in the new Commissioner, Gov. Ugwuanyi disclosed that "the compelling need to re-establish commanding leadership for State Health Care System under a Commissioner", in the face of the escalating Coronavirus Disease (COVID-19) pandemic, "necessitated the urgent replacement of our deceased Commissioner for Health".
The governor added that the action was taken pursuant to the confirmation of Associate Prof. Obi's nomination as Commissioner by the Enugu State House of Assembly "conveyed in Enugu State House of Assembly letter reference No. HA/5/CHA/11/VOL.1V/146, dated 9th April, 2020."
While congratulating Associate Prof. Obi on his appointment, Gov. Ugwuanyi expressed the hope "that you will bring your expertise and the requisite gravitas to bear on your new role as Commissioner for Health, Enugu State, especially in these unusual times."
Responding, Prof. Obi expressed gratitude to the governor for finding him worthy to serve as the State Commissioner for Health and pledged to carry out his duties with "all diligence and the best of my ability".
PROFILE: Dr. OBI., Emmanuel Ikechukwu
Dr. OBI., Emmanuel Ikechukwuhails from Ogonogo eji Ndiuno, Amaeze, Akpugo in Nkanu West LGA of Enugu State. Heis an Associate Professor of Public Health Medicine,Fellow of the National Postgraduate Medical College of Nigeria in Public Health (FMCPH), with a Master's degree in Public Health (MPH). Heis a Lecturer andHonorary Consultant,at the College of Medicine, University of Nigeria Nsukka and Teaching Hospital, Ituku/Ozalla Campus, where he currently serves as Senior Special Adviser to the Chief Medical Directorand Head of the Project and Partnerships Management Office. He has acted as CMD and as CMAC at different occasions, was the Training Coordinator of the Community Health Officer Training Program (CHOTP) and the Coordinating Consultant forAbagana Comprehensive Health Centre,an Outpost of UNTH.
At the College of Medicine, he is Research Fellow and pioneer Course Coordinatorof the Health Promotion and Communication Stream, at the Institute of Public Health and Pioneer Director of the Biomedical Communications Centre.He has headed and served creditably on various committees in his Department, Faculty, the College of Medicine and for the University. He has worked forFamily Health International (USA) in the GHAIN Project, and as National Consultant to agencies such asUSAID, John Snow Inc.,DFID, NPHCDA, HERFON, Preston Healthcare Consulting, ENSACA etc.
He isaffiliated to theNigerian Medical Association, Association of Public Health Physicians of Nigeria (APHPN), Medical and Dental Consultants Association of Nigeria (MDCAN), Health Development Guild of Nigeria (HDg-N),Nigerian Network of Health Trainers and Consultants,and the African Heritage Institution (AHI) locally. He is Deputy National Representativeof the International Association for Communications in Healthcare (EACH), and is the immediate past Chairman of Goshen Estate Residents Association (GERA), a registered Neighbourhood watchwhileMinistering to the Paramedics team at his local church. He is published in peer-reviewed journals, with papers delivered at local and international health conferences.Dr Obi is Married with children.